EcoLife Riverside with the message "Green life" is invested and built in the direction of Green – Smart. With a construction density of 53.1%, this is the first project to reach the EDGE international Green standard in Quy Nhon.
EcoLife Riverside brings the definition of "standard green living" to residents of the coastal city of Quy Nhon. By the Ha Thanh River, EcoLife Riverside will continue to write the story of green, peaceful and happy living dreams for the community.
EDGE GREEN CERTIFICATE PROJECT
International Green Building Certificate EDGE is issued by IFC agency of the World Bank
At the EcoLife Riverside project, the Edge certificate is issued at the apartment design stage with the following key criteria:
• Water Saving: 36%
• Power Saving: 26%
• Energy savings contained in materials: 37%
• Reducing greenhouse gas (CO2) emissions: > 112.07 tons of CO2/year
=> See more information at the link: https://edgebuildings.com/project-studies/ecolife-riverside/
ADVANTAGES OF EDGE GREEN CONSTRUCTION PROJECTS:
Reduce costs of electricity, water, maintenance and repair
House keeps price when resale
Bring perfection to the homeowner
FACILITIES ECOLIFE RIVERSIDE
Children's play area
Outdoor pool
Roof garden
APARTMENT SURFACE ECOLIFE RIVERSIDE
PROJECT PROGRESS ECOLIFE RIVERSIDE
IMAGE GALLERY ECOLIFE RIVERSIDE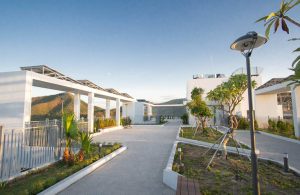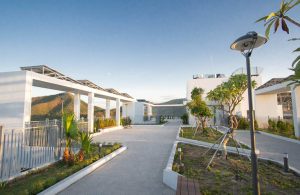 REGISTER TO RECEIVE INFORMATION
EcoLife Riverside
Please fill in the information below so we can contact you as soon as possible. All of this information is strictly protected.